Rick Fullwood has written an incredibly moving, thought-provoking and insightful account of his time with his Mum throughout the final few years of her life with dementia.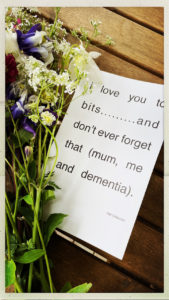 Searingly honest with sharp rays of humour, it is fascinating to watch him reach many of the same conclusions that we teach at Contented Dementia Trust via the SPECAL method, by working it out over the months and years spent by his beloved Mum's side … he's a natural!
"- mum left me to go with the carer to have a shower. I popped in several times to see how she was getting on. Each time it was as if it was the first time she had seen me that day. Rather nice for mum that she kept having that surprise."
Rick has very generously said that he'll donate all the money from sales of this gem of a book to Contented Dementia Trust.
If you would like a copy please email Rick at richard.fullwood012@btinternet.com
to say that you will be paying £10 via Contented Dementia Trust's JustGiving page
https://bit.ly/3yI9KXD 
  (also found via the DONATE button on this website).
Include your address in the email and once Rick sees your name appear on our JustGiving donations page, he'll send you a copy.
OR write to Rick (including your address) with a cheque made out to Rick Fullwood for £10, and he will send you a copy.
Brighton BN1 4LS and include your own address.